[av_textblock size=" font_color=" color="]
    2009 National SACC Convention  
Ventura, California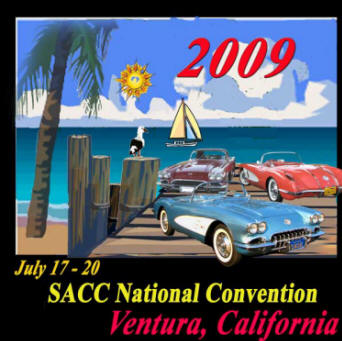 The 2009 National SACC Convention was held on July 17 – 20, 2009 in Ventura, California. Participation included 43 C-1 cars and approximately 160 people.  The events during the weekend included a Friday evening Welcome Reception (hosted by Corvette Mike), a Free continental breakfast hosted by Jeff Reade, a Saturday Technical Session, a spouse visit to nearby Old Town Ventura, an evening Dinner Cruise around Ventura Harbor, another Free continental breakfast hosted by Ron Lefler and Steve Lu Visi, a Road Trip and lunch experience north of Santa Barbara and the final Banquet, General Meeting, Guest Speaker (Dick Guldstrand) and 70 of Raffle Prizes.
With much of Southern California basking in a heat wave inland (90 to 100 degrees of "Dry Heat"), locating our Convention Headquarters right next to the ocean (Ventura Harbor) was shear genius.  Ventura, CA is an old California Mission town and includes one of the early California Mission's that were built from San Diego to San Francisco.  The  Ventura temperature remains very constant over the year and is usually only affected by a "more or less breeze" off the ocean.  The So. California SACC Chapter (SoCalSACC) selected this area almost 2 years earlier because of its weather and "somewhat less" traffic congestion.
The National SACC Convention for 2009 was hosted by the Southern California Chapter of the SACC.  Above is Bob Brown's '59 sitting in front of the chosen hotel in Ventura, CA.  The hotel is the Four Points by Shearton.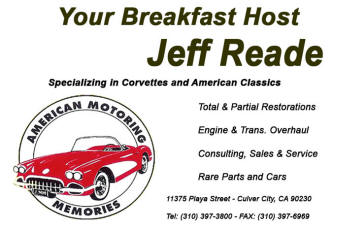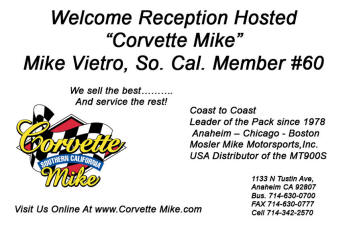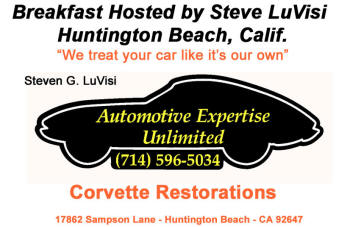 Four
Convention Events were held through the generosity of several Chapter members.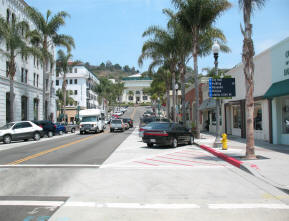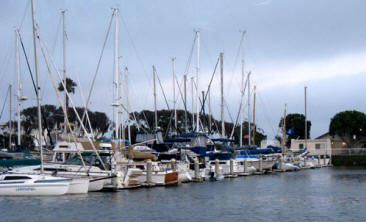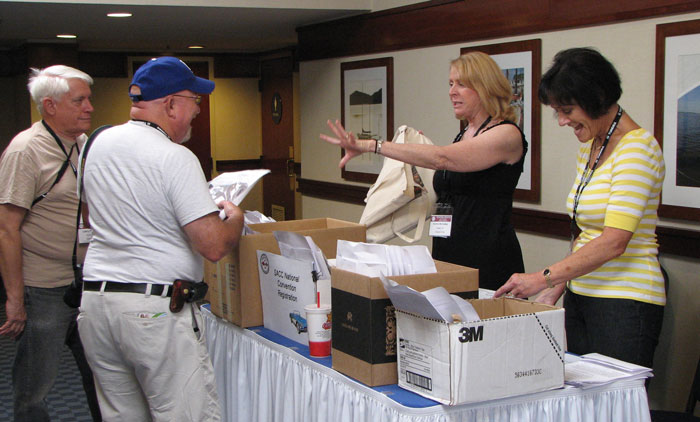 Convention Registration runs smooth when a lot of prior organization is done.  Above Dorothy McCloskey and Jenni Weinstein hand out pre-packaged envelopes with each attendee's tickets, and convention information.
Convention Parking Lot
The 4-Points allowed us to rope off a section of the front parking lot for C-1 only parking.  "Other" Corvettes were allowed along side but the C-1's had their own space.  Additionally, from 6PM till dawn each night a paid security individual was present to watch the cars.  The guard was allowed to check your convention badge and ask to show your identification if departing in your car after 10PM.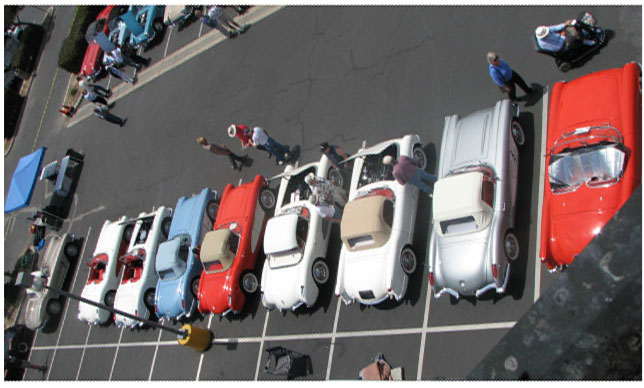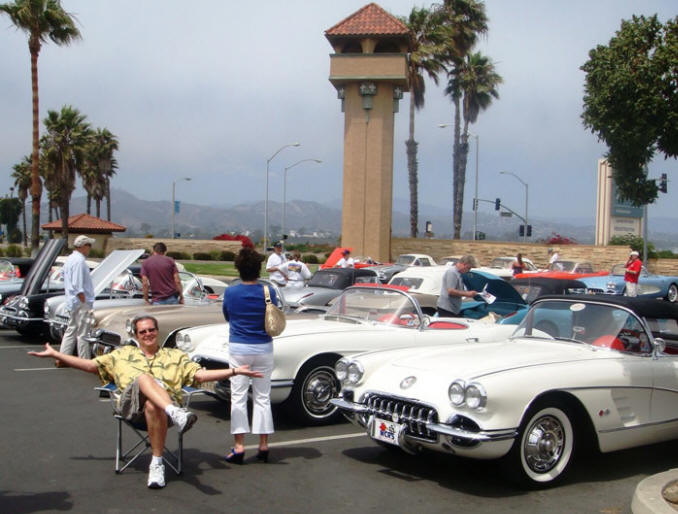 Saturday Tech Sessions
SoCal member Chip Werstein is the Chapter Tech Session Coordinator, and he is used to large crowds of attendance.  Chip selected 4-Topics for this Convention session: C-1 clutch linkage (Doug Prince), T-10 and Muncie Transmission's (Jeff Reade), C-1 Generators (Larry Pearson) and Special C-1 Restoration Tools (Chip Werstein and Mike McCloskey).  All presenters are members and technical advisors for the SoCal Chapter.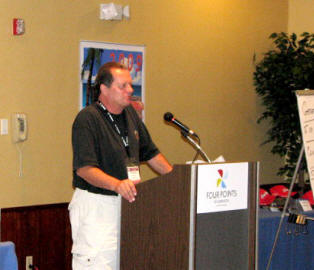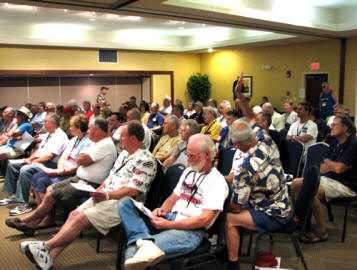 Chip (left) began by welcoming the Saturday morning crowd in the Schooner Room for our 3-hour session.
The presenters did a thorough job with their identified subject matter.  It is extremely difficult to cover the topics in such a short time period and also the short space of this Newsletter.  Pictures will have to be used to indicate the in depth preparation these speakers went to prior to presenting their subject.  They are to be commended.  Short discussion sessions followed each presentation and many questions were answered.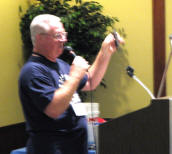 The first Speaker was Doug Prince and his "props" are seen to the left.  Any C-1 owner who has ever worked on a C-1 clutch linkage can identify the parts. Furthermore, Doug passed out a illustrated parts breakdown identifying each part.
The C-1 clutch linkage system works well, when not worn and properly lubed.  All of the displayed parts were extremely worn and this is common on most C-1's that are driven and original to these cars.  The primary problem appears that no method ever existed originally that "properly" lubed the clutch system.  To quote from the repair manual, "squirt engine oil on the moveable parts every 1000 miles".  Doug went on further to explain that replaceable parts fit good but the hardening characteristics of many replaceable parts are poor and will wear quicker than the originals.  For additional cost, these parts can be further heat treated and will perform very well over time.
When Jeff Reade comes to the table to address a subject, he literally brings his shop.  Jeff operates a Corvette shop in Culver City and his C-1 knowledge for these sessions seem endless.  Several of Jeff's past tech talks are found on the Chapter Web Site, www.socalsacc.com.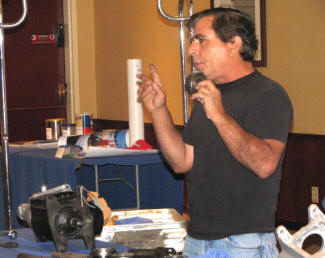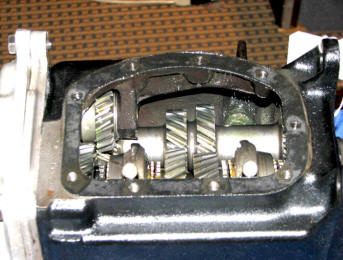 Larry Pearson, our SoCal Chapter forever hobbyist, tinkerer, and all-around source for an opinion on all C-1 subjects, was today conveying information about C-1 Generators.  Larry proceeded to provide an overview of the generators used on the C-1's, the several sizes (amperage output) of each generator, and identifying each generator.
The information provided was extremely valuable providing a good "workable" understanding of a generator operation and care.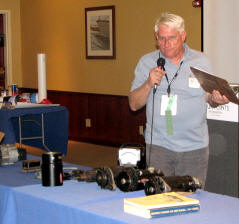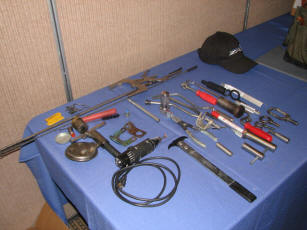 Yes, the table to the left is the necessary items for C-1 surgical procedures.  The final 2 speakers are both skilled "Doc's" on the C-1 car.  Our own Chip Werstein and Mike McCloskey have for years developed special tools which mostly are obtainable and each tool contains the uniqueness for some operation on the car.
– Harbor Dinner Cruise in Ventura Harbor –
One Event that most land-locked convention attendee's wanted to participate was the Harbor Dinner Cruise and experience the ocean.  The Island Packers Co., in Ventura Harbor, offers several cruise events within the harbor, to the nearby islands and up the coast.  The Island Packers ship was full and left the dock at 6:30 Saturday evening.  We sailed for a few hours while we ate dinner, watched the sun set, pelicans gliding by and enjoyed the company of fellow convention attendee's.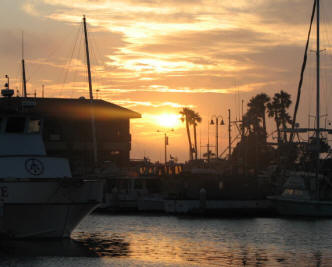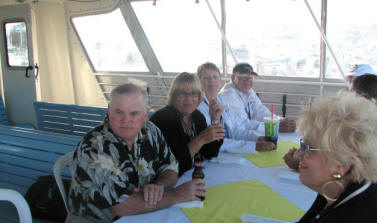 – The Convention Driving Tour –
Larry Pearson, SoCal member #5C, coordinated our Sunday drive through the beautiful countryside north of Ventura, to the town of Goleta, CA.  Our tour began in the Convention Hotel (Four Points) parking lot with a Driver's Meeting and Photo Op as we left the parking lot.  SoCal member Jerry Norton, #156, "shot" us as we left and all the drivers received their pictures that evening at the banquet.
Approximately 45 C-1's participated in our drive which drove out toward Ojai, around Lake Casitas and up toward the higher elevations for some spectacular views.  The roads we drove where 2-lane and less traveled. 
Approaching Santa Barbara from the south the highway traveled through some spectacular flowers inland from the ocean in Carpinteria.  The drive continued along the back roads to a section know as Montecito, very exclusive.  A detour occurred further up the road and all were pleasantly surprised when the road allowed us to view the Santa Barbara Mission, one of the most spectacular of the surviving missions.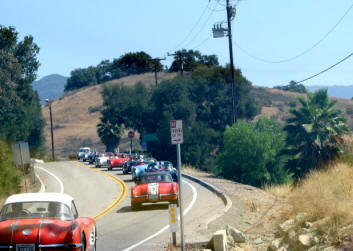 An impromptu stop was made at a local town esplanade.  People drinking coffee in the area gave us many high signs of appreciation.  The break was well needed by some after almost an hour of driving.  Then it was back on the road for more hilly curving roads.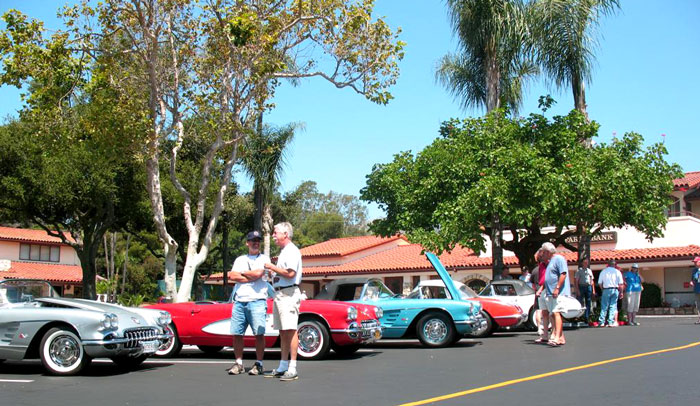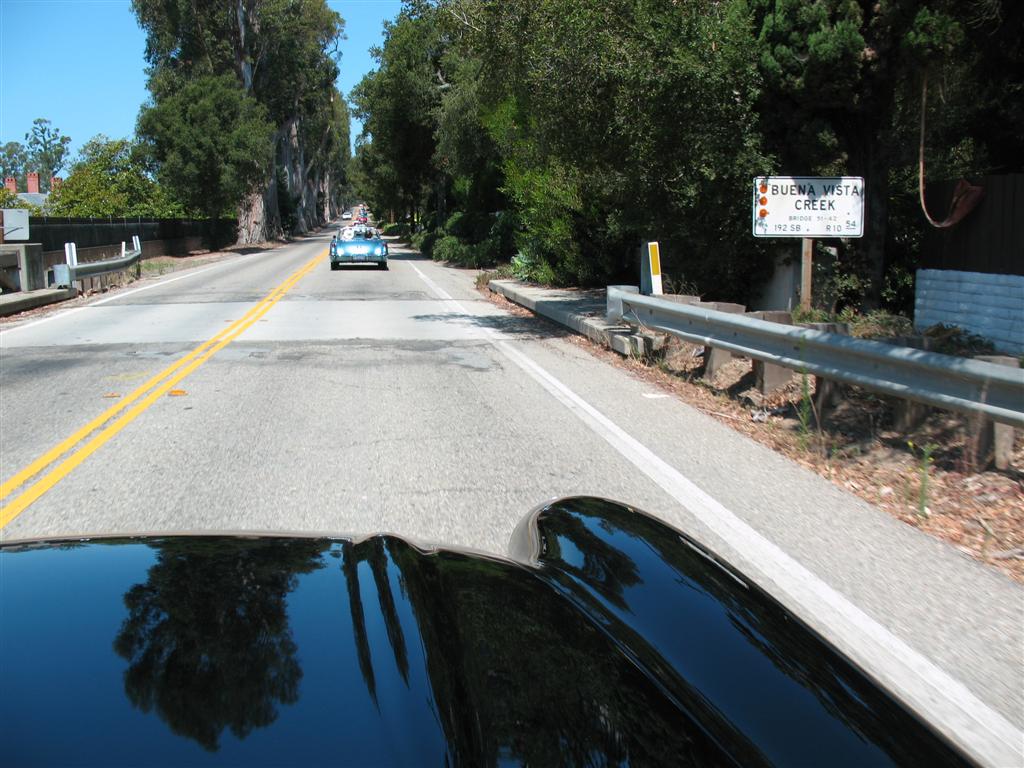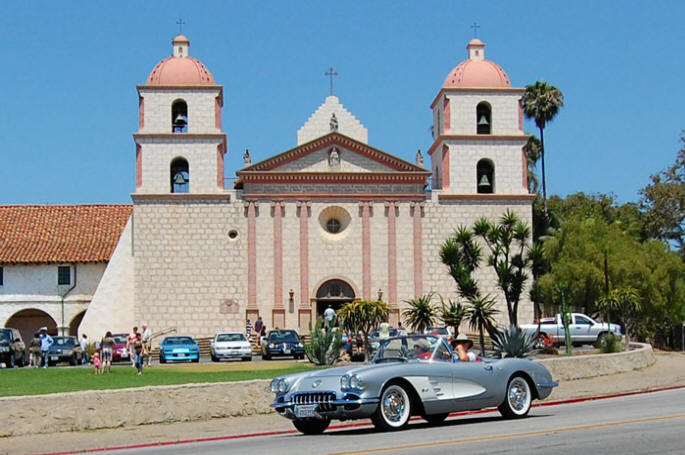 Almost an hour later we began descending into the town of Goleta, north of Santa Barbara.  About noontime Randy & Diane Solle drive in front of the Santa Barbara Mission. Our luncheon experience will be at the Timber's Restaurant.  Most everyone arrived at the Timber's about the same time and overwhelmed the servers.  But the restaurant recovered and easily seated our entire crowd numbering over 100.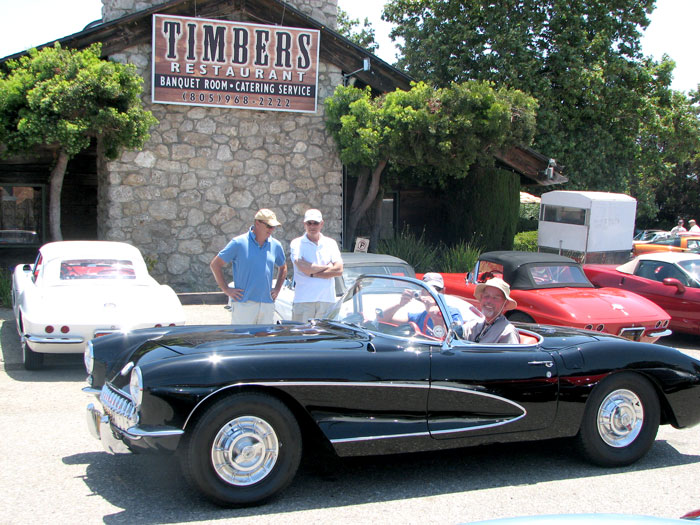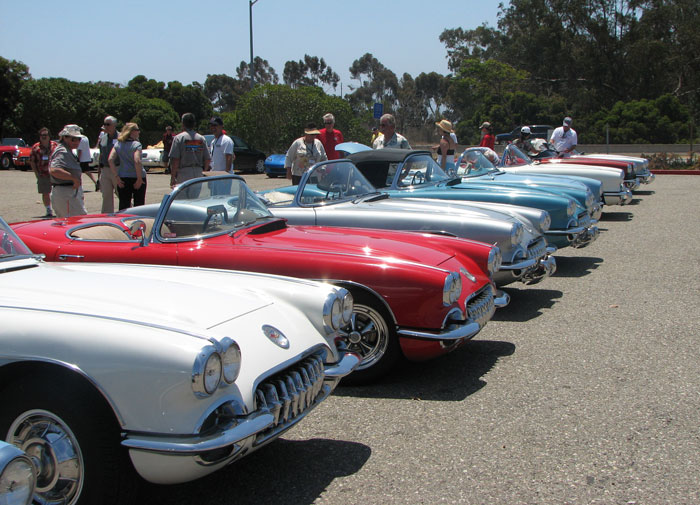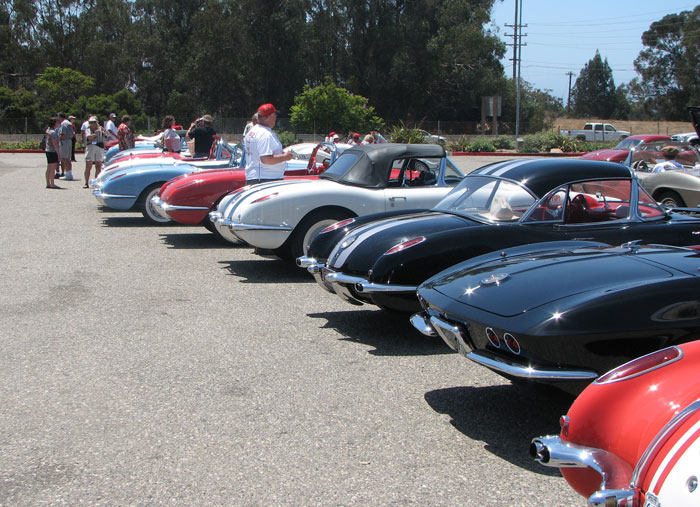 Parking was initially easy and expansive at the Timbers, and provided quite a C-1 car show.  Most cars then moved a short time later when it was determined we occupied a nearby gas station property.   Our pre-paid meal was a Mexican food Buffet.  The line was somewhat long but when all were done no "hunger" complaints were heard.
Sunday evening was the National Convention Banquet.  Everyone was given a choice of 3 entrée's and each made their decision at the time of Registration Check-in.  Due to the larger attendance the 4-Points moved our event to the Banquet Room.  Very good facilities!
After a few Greetings to the attendee's, the waiters hit the floor moving the food.  Very generous portions and very good service.  After dinner Max Brockhouse, the National SACC President, chaired a short General Business Meeting were Bruce Fuhrman, the National SACC Secretary, read the previous minutes. 
Next, the Guest speaker was introduced, Dick Guldstrand.  Dick proceeded to entertain everyone with his recall of early Corvette Racing and how he entered this arena working for Roger Penske.  Very enjoyable presentation.
The final event of the evening was the  drawing of 70+ Raffle Prize winners which was expedited as quick as possible.  Jim Lundal (page 8) did win a Harry Mann (local early Corvette dealer) T-Shirt with (hard to obtain) window decal.  Probably not an impressive win to eastern folks, but big-time for LA people.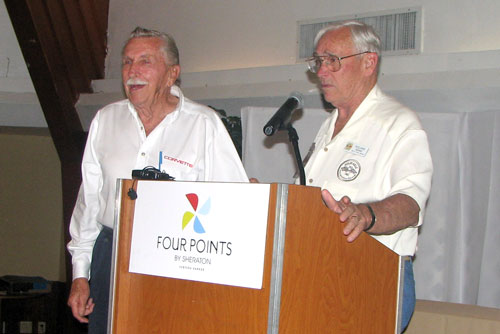 (Top Right) SACC President Max Brockhouse welcoming the Convention Dinner Attendee's.  (Below, RtoL)  Dick Guldstrand and Noland Adams at the podium.  Bruce Fuhrman, Convention Chairman and SoCalSACC member, addresses the dinner guests.  Bruce is National Secretary.
Below are several attending the pre-banquet mixer.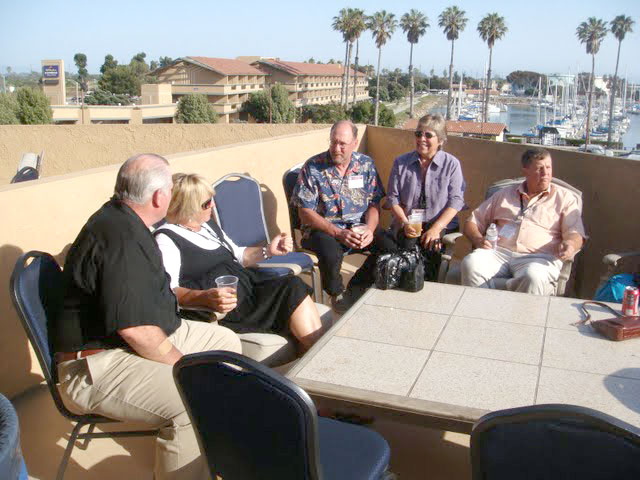 Random Pictures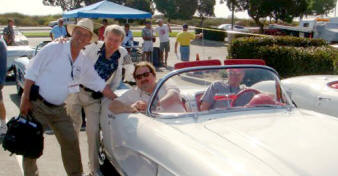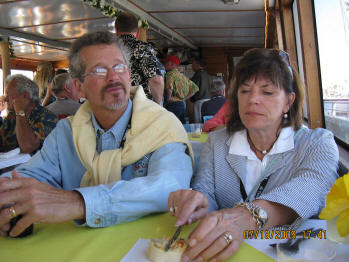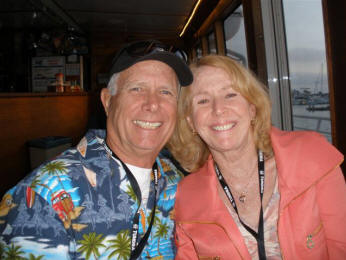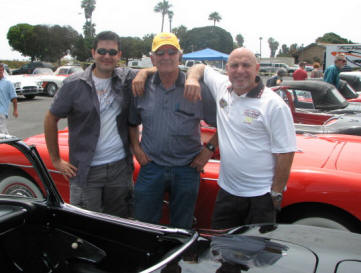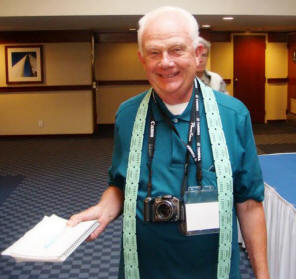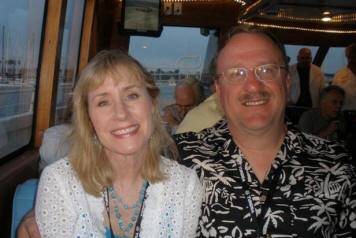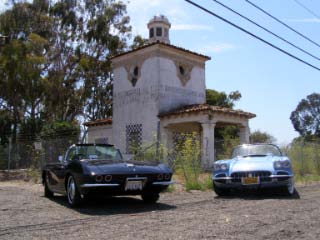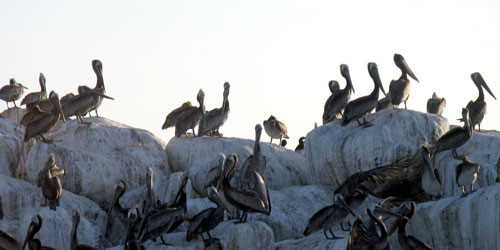 [/av_textblock]