Fall General Membership Meeting
Tam O' Shanter Inn
October 2007
This Fall General Meeting selected the Tam O' Shanter Inn for a location, which is the same location as used in the Spring.  Parking is isolated and perfect for Tire Kickin' and the meal served is "over the top".  To further commemorate this day, and the existence of So. Cal. SACC Chapter, Noland Adams was invited to speak as was done at the kick-off of our first meeting two + years ago.Several Items on this years Business Agenda were:
– To nominate and vote on officers (Board Members) for 2008.  This was done and the only office to change was Vice President Mike Gibbon's #72 replaced Dick Block who wanted to free up his time.  Retained offices were: Bruce Fuhrman #2 (President), John Costales #4 (Treasurer & Membership Secretary), Larry Pearson #5 (Secretary) and Chip Werstein #3 (Tech Advisor).
– It was voted on decided that only a single Membership Meeting would be held each year during the Fall season.
– Announcement of SoCal hosting SACC National Meet in mid-July, 2009.
The day was beautiful and the attendee's brought approximately 35 cars and almost 60 individuals. 
Noland Adams arrives as a passenger with Larry Pearson in Larry's '60.  This is what all felt a proper arrival for such a Corvette celebrity.  SoCal Chapter President Bruce Fuhrman greets Noland upon arrival.
President Bruce Fuhrman points out features on one of the early C1's.
Count them if you want, but reportedly it was about 60 people.  Good attendance!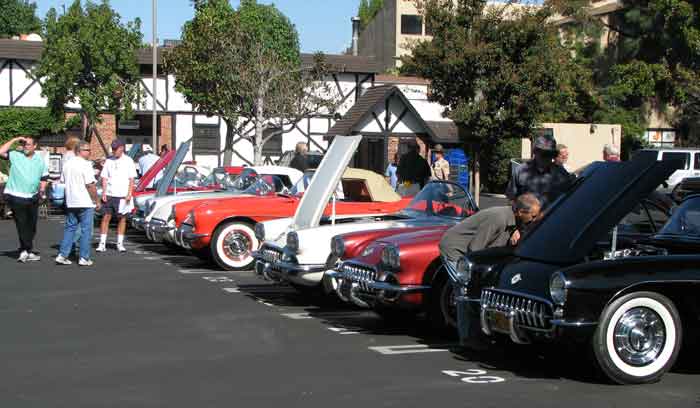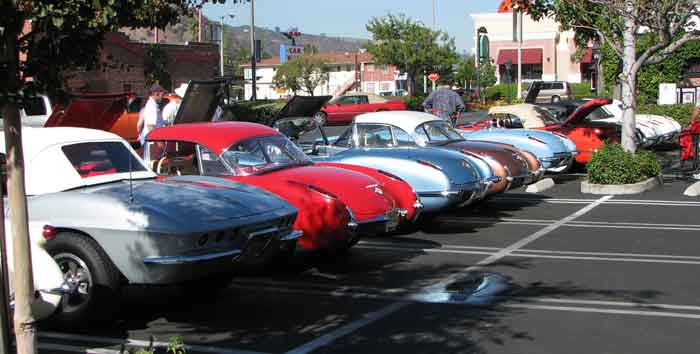 Parking Lot Scenes!
More Parking Lot, above and below!  This is great tire kickin's time!
Noland and Larry Pearson (hidden by hood) discuss details while owner Ralph Haun looks on from the right.
Noland relaxes while wives Judy Lundal and Jenni Werstein sit at the registration table.
Noland presented a discussion on GM Corvette Restoration Parts and the past history of his involvement with legalizing the use of the word Corvette with company Logo's, i.e. Corvette Central, Mid-America Corvette and others.  There was also a short discussion on restoration part quality and how many companies rely on foreign manufacture of parts.  Essentially it is Buyer Beware.
SoCalSACC President Bruce Fuhrman (right) presents Noland Adams with a plaque for thanks and assistance in getting our Chapter "off the ground" a couple of years ago.