Santa Maria BBQ & Wine Tour
The Santa Maria Tour was held on Sat. & Sunday, September 30 and October 1, 2006.  With a rainy Sunday threatening, 10 cars set out on Saturday morning leaving from Ventura and heading for Santa Maria.  The Santa Maria Inn was the abode for the night but many activities were scheduled before retiring there that night.
Once everyone arrived and we met with Carlos & Sherry Vivas, who had recently relocated from Torrance to Nipomo California, the tour of the wineries began.
After completing our wine tour, the Vivas's hosted a BBQ at their new home, and garage.  Most everyone was very envious of Carlo's garage facilities.  Carlos uses these facilities for his Corvette repair business.  The BBQ was catered and delicious.
The following is a note from our chapter President, Bruce Fuhrman:
Ten C-1 Corvettes left Ventura heading up 101 which was the route of the movie "Sideways". We met Carlos Vivas in Buelleton who took us on to the "Wine Run". We toured 3 wineries, Melleville in Buelleton, Bedford in Los Alamos and Cottonwood Canyon in Santa Maria. Carlos took us on a "short cut" from the Buelleton winery to Los Alamos. It was only 8.8 miles of country road called Drum Rd. We only passed one car coming the other way who stopped to let us pass since it was a ONE lane road. It was relabeled by us as "Brake Drum" Rd. after coming down some steep grades! We also checked out a large Antique shop in Los Alamos.
The really big event was in store when we pulled into Carlos Vivas driveway in Nipomo! Wow what a "garage" he has! I counted 6 lifts and so many Corvettes he had to store them on lifts to get them under one roof. He just moved to Nipomo from the LA area and has one beautiful set up. He has all the equipment for a full restoration as well as the Corvette and GM signs and memorabilia to complement the cars. We enjoyed a great BBQ and lots of tire kicking with the locals and a raffle. The day ended with an over night at the Santa Maria Inn which is truly a grand old hotel and very nice. The trip home on Sunday was interesting when it rained on our parade. I was very pleased my wipers worked well on the '54. They worked so well they wiped all the rain off the windshield onto the door post which drained into my ashtray and my pants leg!
    We all had a great time and many thanks to Carlos and Sherry Vivas for volunteering to set up the tour and BBQ.
…………….Bruce Fuhrman
An appropriate view for the beginning of our Wine Tour.  Photo submitted by Eric Hershkowitz.
Rendezvous occurred on Saturday morning at a Carl's Jr. in Ventura.  Several wineries would be visited on the way to Santa Maria and an evening BBQ at So Cal SACC members, Carlos & Sherry Vivas's, new home in Nipomo, Ca.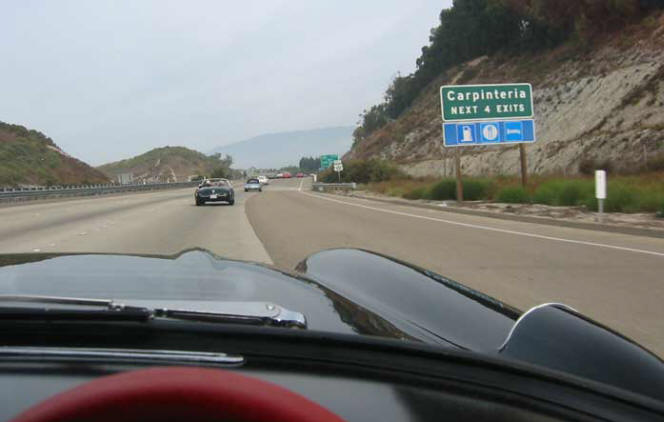 Just another typical view out of the windshield of your typical '57 Vette.  Somehow this view makes a often traveled route look more interesting.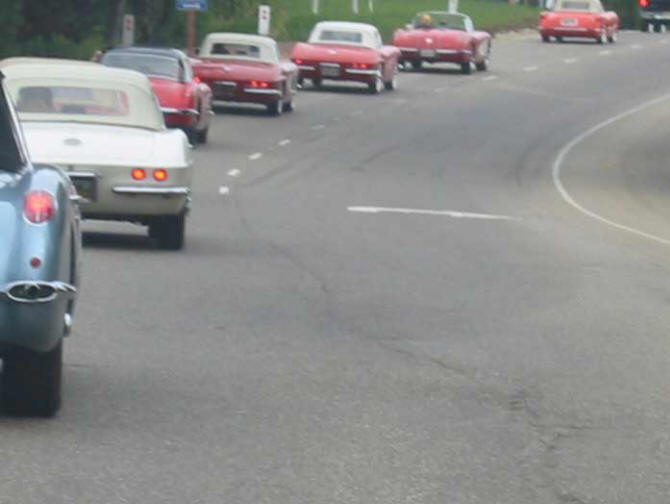 Now, this constitutes Touring at its finest.  Driving to front of a winery in you C1 and strolling amongst the barrels toting your sample glass.
Ah Yes, the sample stop.  Judi Costales isn't a two-fisted sampler, she is just out looking for husband John.  Yeh Sure!
After a couple of wineries, things seem somewhat more BLURRY!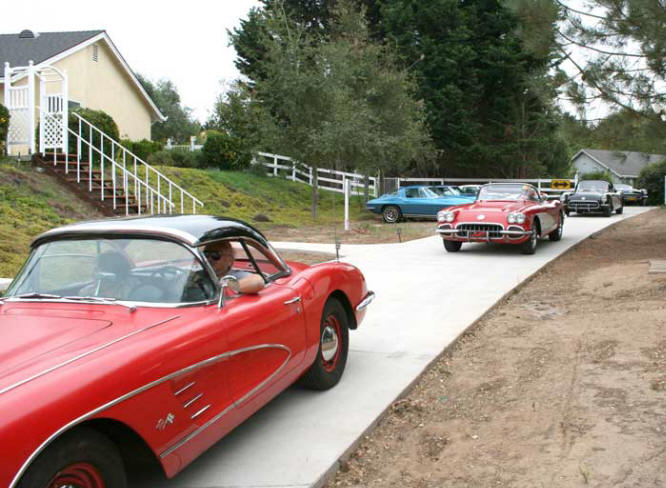 Entering the Vivas estate.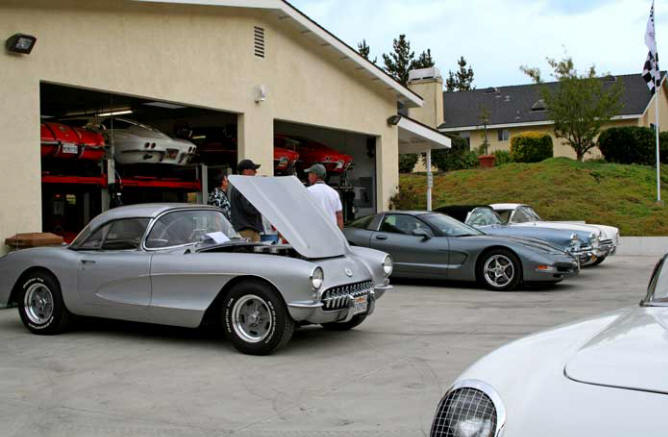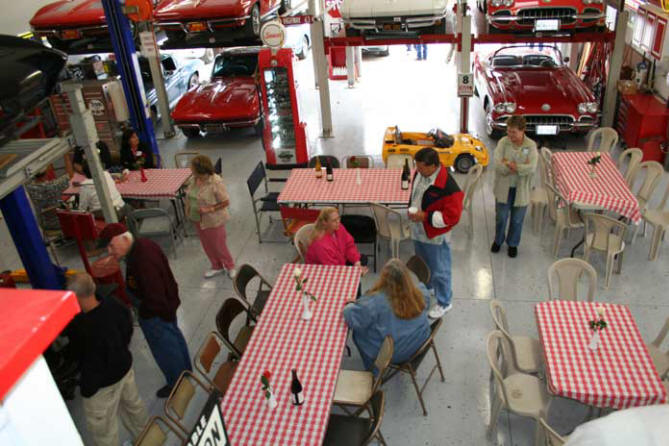 This has got to be on somebody's wish list, even without the cars.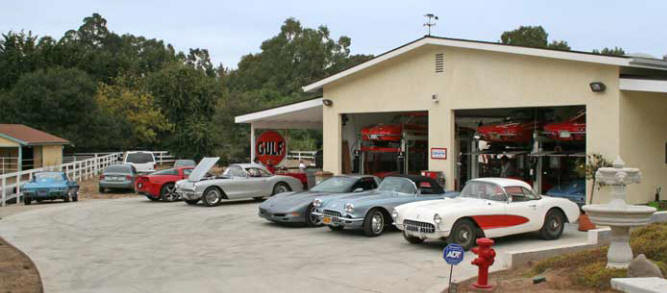 The garage also has depth and not just double-double door width.
And we all ate well!