Borrego Desert Flower Tour
"Eastern San Diego County"
This is another Randy & Diane Solle Tour.  Our Chapter will be traveling to the Borrego Desert with hope of seeing a carpet of Desert flowers.  The Spring of 2011 in So. Calif. has had an abundance of rain this winter which is positive for desert flowers, however, the temperature was "relatively" chilly which is negative on desert flowers.  The basic bottom-line is our tourers don't need flowers to make success, just a great chance to drive our C-1's and fellowship amongst ourselves.  Thank you once again, Randy & Diane Solle for a great weekend.
Many of our tourer's somewhere between Temecula and Palm Desert.  Note the background mountains with snow.  The temperature is somewhat chilly.  Several members joined us for the day and returned home but a large percentage stayed the night in Borrego Springs.
With the threat of rain on the Friday before our Flower Tour began, several with significant distances stayed the Friday night in Temecula, the location for the beginning of the tour.  This provided another chance to dinner and party before the tour.  Also on the agenda was wandering through Old Town Temecula for antique treasures.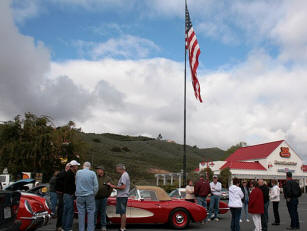 Beginning the tour, note the threatning weather and the jackets.  Our touring began at 10AM but we waited for Larry Pearson to arrive from Burbank and he was only 10 minutes late.  Above Larry is seen turning in his insurance waiver, and we were off.
Lunch time in Palm Desert had very mild temperatures and our 20 Corvettes caused a great show in this money rich town.
Weather became somewhat windy after leaving Palm Desert.  We drove south on the west side of Salton Sea.  This entrapped salty sea water is a very large body of water.
Bob Brown sits proudly waiting to go to lunch in Palm Desert.  Right, group turns into Palm Canyon Resort, destination for the night in Borrego.
Nearby our Resort was this mid-century Inn called The Palms at Indian Head.  This establishment was built in the 50's and was a noted retreat for many of the Hollywood set.  Our group stopped by for a visit and an evening cocktail.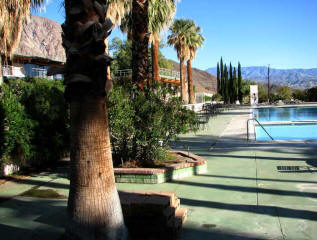 The Palms at Indian Head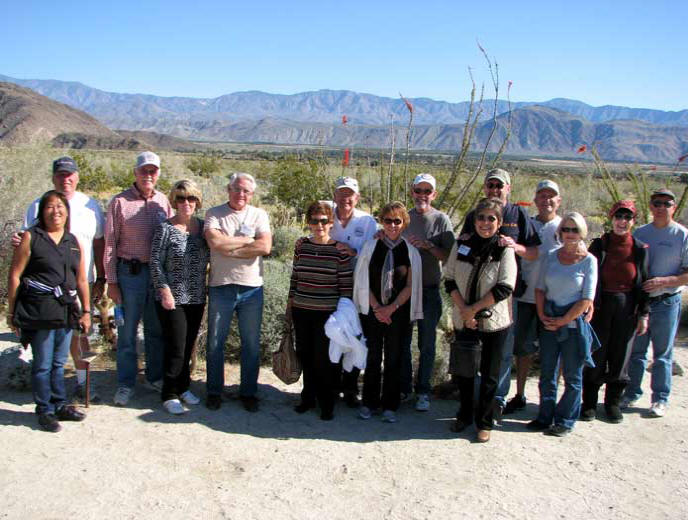 The Group visiting the Borrego National Park on Sunday morning. Pleasant day before we climb the hill and head west and cooler air.