Paradise Cove Tour Malibu, Calif. 
Saturday, August 25, 2007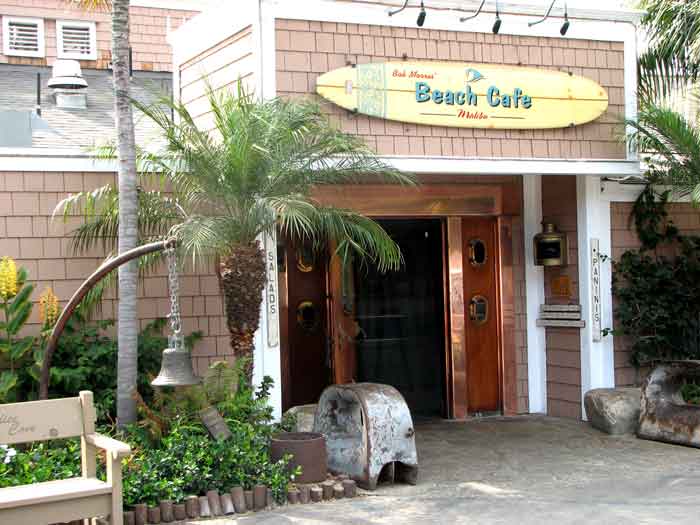 Let's go Surfin' Now, Everybody is Learnin' How………..and so forth!This Tour was a repeat from a couple of years ago.  SoCalSACC staked out a spot at Bob Morris's Beach Cafe' and filled it with over 30 cars.  The Beach Cafe' is a old Movie Star/Hollywood hangout frequented by neighborhood movie celebrities.  It is located approximately 5 miles north of Malibu township on Highway 1 (Pacific Coast Highway, or PCH for those who live in So. Cal.).  This Cafe' is tucked off the highway approximately a mile, and right on the beach.
Featured during our car collection was five (5) 1954 Corvettes, and a 1955.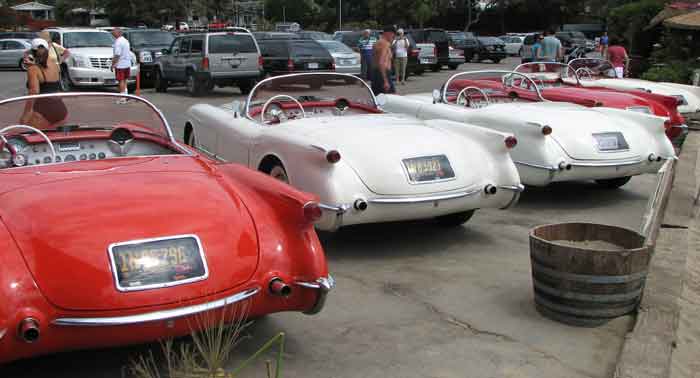 A Good collection of C1's gathered at 10AM this Saturday morning from various locations in the So. Cal. area.  Malibu is not directly accessible by Freeway but it is a beautiful drive to reach this location.  Several members originated caravans from several locations in the So. Cal. area..
This particular view looks over the parking lot, over the cars to the cafe' and the Pacific Ocean is beyond.  Sometimes we SoCal members realize why we reside in these locations and tolerate the many city inconveniences.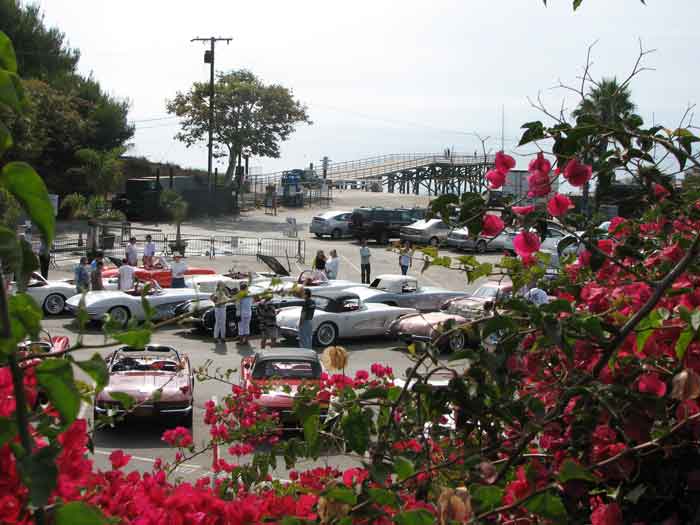 30 C1's and a beautiful C2.   The side-road leading to Paradise Cove comes down the hill and the Beach Cafe' let us park in their lot as long as we arrived by 10AM.  After eating, we began to exit and  the lot was quickly filling with "moderns".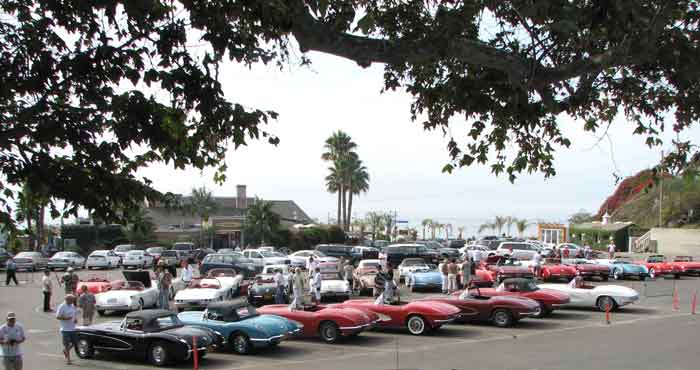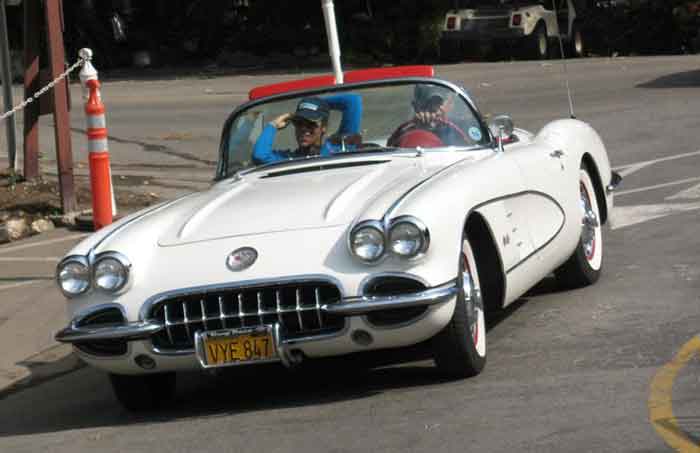 Sort of like..C1 Grid-Lock!  Or, maybe this is C1 Heaven!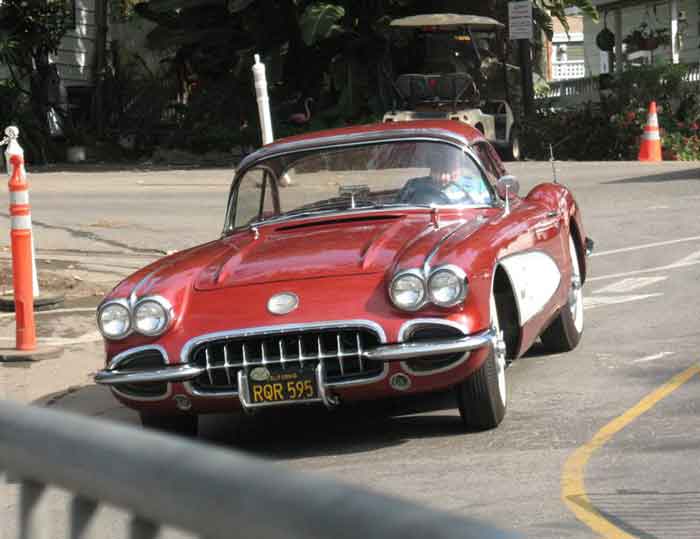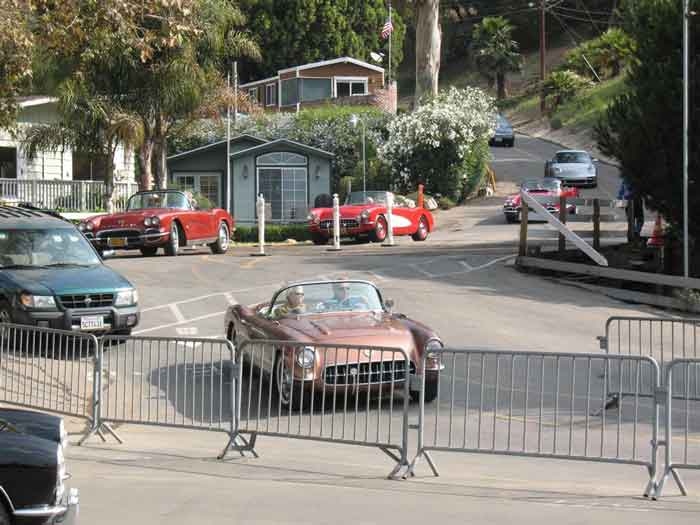 This area was looking at the location where the "Rockford Files" with James Garner was filmed many years ago.  I think the trailer was off to the left side of this view.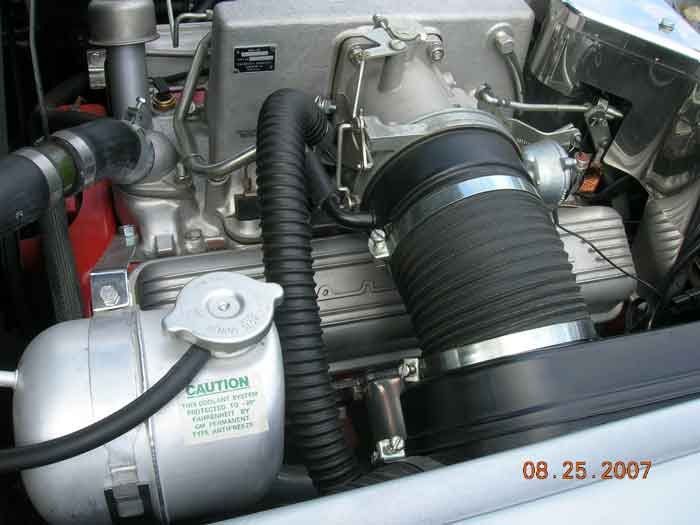 Above: Chip Werstein's FI unit on his '61.  What component is NOT stock to prevent Vapor Locking on a HOT day?  
Guess! It probably has to do with black flex air tube directing cool air to prevent "spider fuel lines" from heating and vaporizing fuel.  Maybe wife Jenni has a 12V fan blowing air over ice in the passenger compartment when the day gets too warm.