Pine Valley Tour
"Eastern San Diego County"
 Saturday, April 12th was a "Hot Day" in Southern California.  The word Hot was in the 90's by meeting time at the I – 15 and Hwy. 76 intersection.  13 Corvettes showed up with about half planning to spend the Saturday night in Pine Valley and the rest, living in the area, traveling home to return on Sunday morning.
Randy and Diane Solle were the Hosts on this trip and planned it over several months for the So. Cal. Chapter of SACC.  Randy was also trying to complete his ground up restoration on his 1960 Corvette which he has owned for 25+ years.  He completed it and it is beautiful as can be seen by the picture below.  Randy's complete story was in the last newsletter which is posted on this Web Site.
Below are picture's taken during this Tour.  Many of the pictures were taken by Judy Lundal while Jim Lundal was driving the C1.  The pictorial presentation is not complete but is divided into segments/highlights during the event.  The final segment are the incident's which occur during most tours and they are highlighted.  Incidents are always expected and this tour they were held to a minimum, but what is significant is how every tour participant assists with any problem.  Another significant item which should not be overlooked, all of the wives who participate.  This is not just a guy thing.  Traveling in a C1 is not "often" the most comfortable but without the wives participation it would not be the same.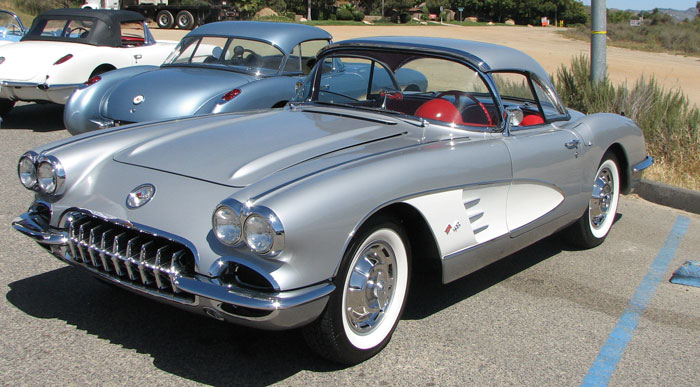 Above is the recently completed 1960 Vette restored from the frame-up by our Tour Host, Randy & Diane Solle.  It is a beautiful restoration and what makes it really stand out, is, he drives it!
Included in our gathering were member representing the gamut of our So. Calif. Chapter.  Members Eric & Fran Hershkowitz drove from Bakersfield, Several arrived from Ventura, Camarillo and the San Fernando Valley and members drove down from Big Bear California.  Of course a large representation was in San Diego County including two couples who are non member but knew our Host from another San Diego club.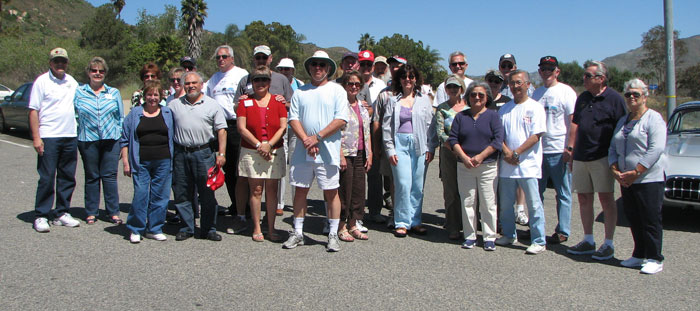 The above crowd standing in the Hot Sun wondering how much of a "cooker" it was going to be all day.  Randy had hoped and hoped for dry weather, but over did it a little.
The initial drive was to a town named Julian.  It took about an hour but it was mostly a climb and thank goodness lower temperatures.  The previous Fall (2007) this area of eastern San Diego County experienced devastating fires and evidence of that devastation was everywhere.  Recent rains have restored some green underbrush and wildflowers but burned tree stumps where everywhere.  The town of Julian was spared by the fickle fire.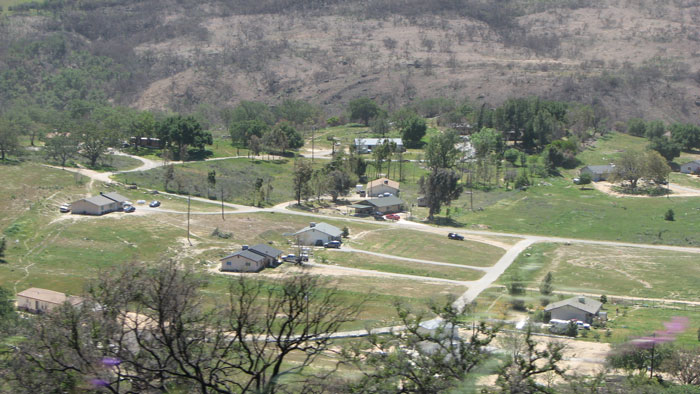 Above is the "green" valley bordered by the fire path.  It becomes very clear that clearing property and luck have a lot to do with surviving the devastation.
Arrival in Julian experienced a very comfortable air temperature due to our gain in altitude.  This lower temperature was the rule until late Sunday when we returned out of the mountains.  Lunch at the "Rong Branch Restaurant & Saloon was the purpose for the Julian stop and it was a treat.
Parking lot in Julian saw quite a string of great cars.   This lot was located next to downtown Julian and after a short/steep walk we arrived at our destination, The Rong Branch Restaurant (below).
"On the Road again" and we were still driving south toward the U.S. Boarder with Mexico with our destination being Campo, Ca.  Hilly windy driving was the order for this leg but scenic was also the order.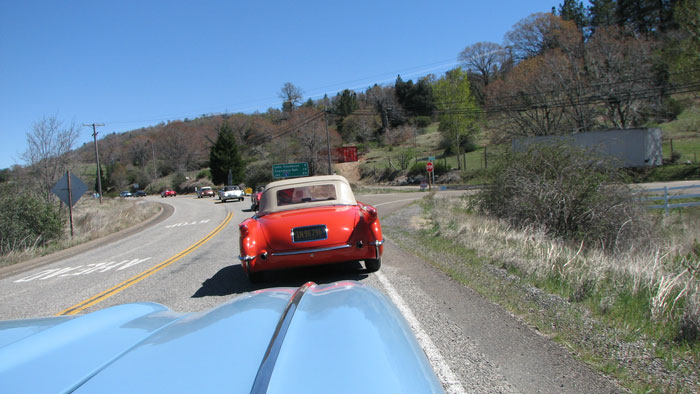 The above monument is our destination.  Located in Campo, Ca., about 2 miles north of the U.S./Mexico border, this is an old Feldspar Factory, closed since back in the 1950's and reclaimed as the Home of the Motor Transport Museum, i.e., a residing location for industrial equipment like trucks, buses, and large vehicles of many types, makes and era's.
Motor Transport Museum
More pictures available on the Motor Transport Museum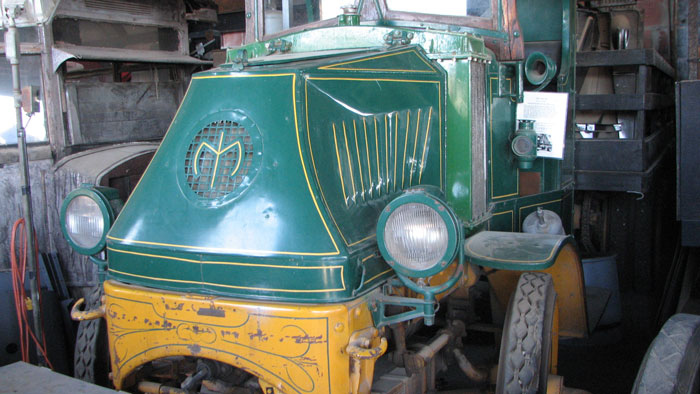 Milk trucks from the 40's/50's.  The signs on their sides indicated two companies but one was Alta-Dena Dairy.
Cadillac 1924 V8 engine.  Note the early updraft carburetor and external cooling pipes.  Each cylinder has oiler's on the head to squirt oil into when operating. I believe someone said that this engine produced about 86hp.  Chevrolet actually built a V8 earlier than 1924 (1917-1919).
This massive body is complete wood structure and the metal skin is fastened to that structure.  Currently a hoist holds the body slightly above the frame while restoration takes place.  This vehicle is being restored for the town of Julian as this particular  bus did haul passengers between Julian and San Diego.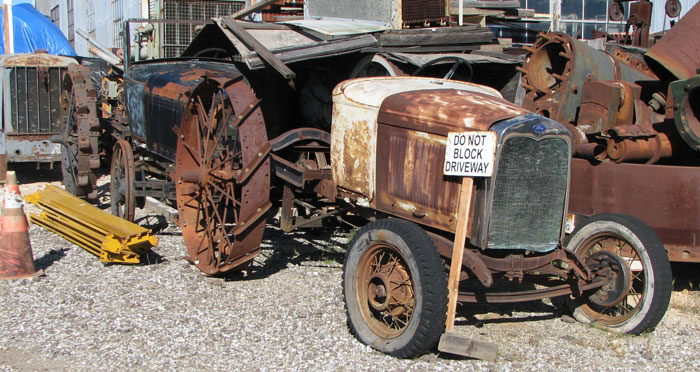 Total Model A Ford front end and rear differential with large tractor wheels fitted and geared.  This contraption was typical of ingenuity in the 1930's when Model A's where very common.
Sunday Morning Car Display (Pine Valley Inn)
Accommodations at the Pine Valley Inn with a cafe next door was all we needed.
Tour host, Randy Solle, poses with his freshly restored 1960 Corvette.
A very impressiveline-up greets the sunrise in the motel parking lot.

Taking The High Road Home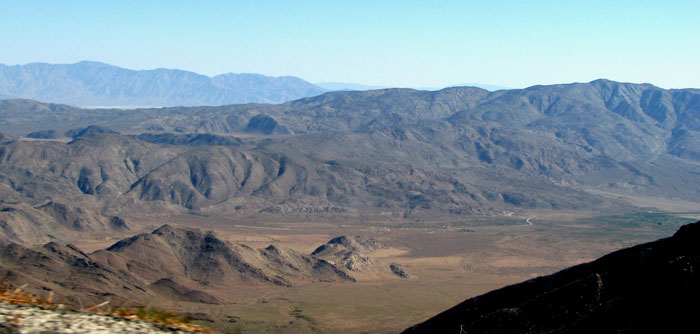 Viewing the desert from "on high".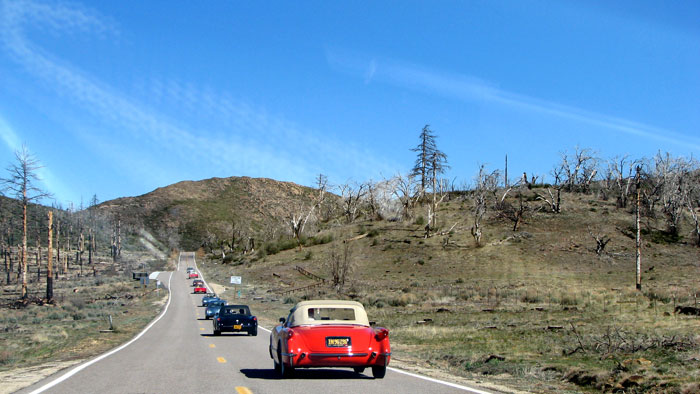 Caravanning at 5,000 ft. elevation.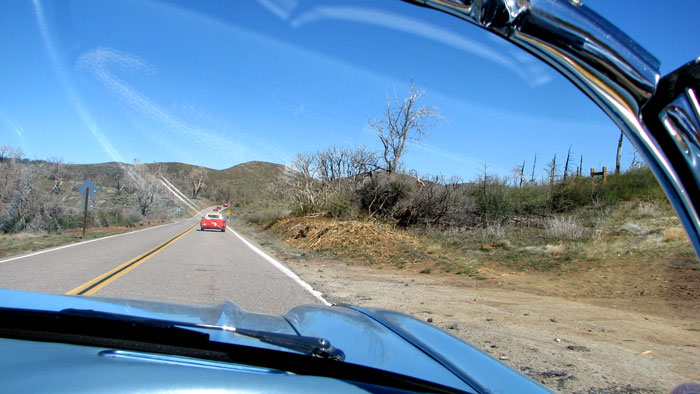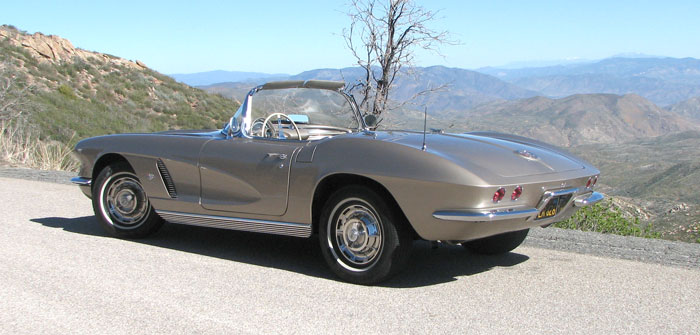 J

oe & Dottie Lagreca's '62 Fawn Beige beauty.
If we could only help Randy more but we can't get our hands out of our pockets.  Some even accused Randy of instigating this because the tour was going so flawlessly.
Incidents were at a minimum.
After years & years of bottom up restoration, Randy finally completes the job while "on the road" in remote eastern San Diego County earning him the name "Mr. Lugnut".  A superb car and job, Mr. Lugnut!
Randy's testimonial:
"After recently finishing a Frame Off on our 60, we took it on the "Run through the Hills of San Diego County" a couple of weeks later. After enjoying a wonderful view at one of the stops, we started out and I heard a noise coming from the back of the car. It was soon discovered that one of my lug-nut's had come loose. After returning home and checking into it further, I realized that this had been the first wheel I had put on the car. The paint shop had gotten the paint a little thick, and as I tightened the lugnut's, it was flaking the paint around the hole. On the remaining three wheels, I had taken a 1/2″ Abrasive Barrel, and cleaned all of the paint down to the bare metal in the countersink where the taper on the lugnut seats. These three wheels were still as tight as when I put them on. Even though I tightened it on the road, the fourth wheel was still not completely tight when we got home. So when you get your wheels painted, be sure to clean all of the paint and foreign material out of the holes, or you may wind up with a serious problem, or if nothing else, a new nickname."
Above, John Costales, who has a reputation of losing items while on the road, reinstalls his inside door knob which had fallen off.  You remember, on the last tour, John's car lost his harmonic balancer.  However, he did receive fame and recognition when publishing an article on reinstalling the harmonic balancer, with the radiator installed.
This incident we are not sure about!  Richard Block, graduate of Harvard Law, practicing attorney, one of the founders of our SACC chapter,  seems to be modeling for those stuffed swap meet dolls you see at Street Rod Shows, hanging on bumpers.  I guess the only incident Richard did have is when his car wouldn't start after failing to press the hidden cut-off switch under the dash.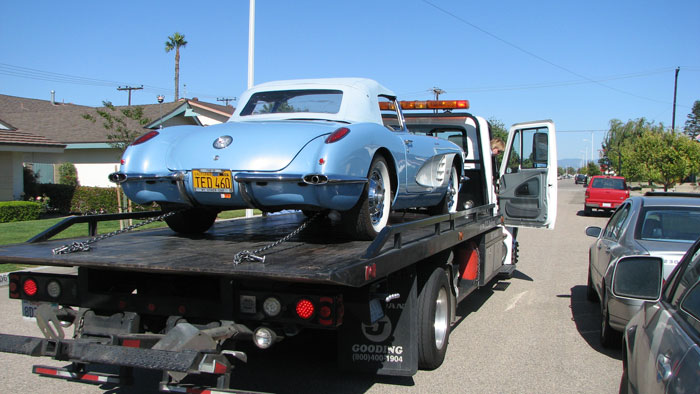 Finally, there is Jim & Judy Lundal who got hot on the way home and decided to travel the last 45 miles in air conditioning.  Jim & Judy received the "milk-shake" curse (see below) from John Costales and shortly afterward their car began heating up and wouldn't cool down (thermostat ?), so they called AAA.  Jim & Judy got milk shakes which were larger and cheaper than John's (see below).  He could not have another one as he was over his limit of caloric intake for the weekend. 
Although, it was officiated by Mr. Lug-nut above, the Lundal episode occurred after officially completing the tour, so the incident doesn't count as "hard-luck".
The final epilogue to the Breakdown:Although the Pine Valley Tour was officially over in Temecula, after 2 days of driving eastern San Diego County, Jim & Judy Lundal didn't experience a problem until heading home.  The outside air temperature was in the 90's and we were caravanning north on the I-15 freeway with John & Judy Costales who was driving to their home in Ventura, Ca.  The Lundal's bid the Costales's a good-bye wave and began to transition over to the 91 freeway west when their Corvette stalled and we had all we could do to pull over to the shoulder. 
The engine temperature had spiked up prior to stalling.  Is Chip Werstein correct?  After 16 years and 40,000 miles of driving, the fuel injection finally died was all Jim could think!
After several anxious moments on the side of the freeway transition with heavy traffic, 90-degree temperatures and two over-heated Corvette owners, Jim got the car restarted and worked his way back onto the I-15 freeway north to the first off-ramp.   We cooled down in a mall parking lot and added some water after removing the radiator cap.  It didn't take much which indicated that wasn't the problem.  "Thermostat" was the another thought!  Starting back up we got on the west bound 91 freeway and the temperature continued to slowly climb and after stopping at the first off-ramp, we dialed AAA.  Jim accused Judy, laughingly, that she just wanted to drive home in an air conditioned vehicle.
Two days later!  Jim and SACC member Steve Clifford changed out the coolant and added a 170 degree AC Delco thermostat.  This was the thermostat still available from your local Chevrolet dealer.   The car was started and as it warmed up, the thermostat obviously worked, according to the temperature gage.   So let's take a test drive!  Idle somewhat rough, acceleration moderate with what appears to be some missing in the spark plugs.  Something still wrong! Oh yes, maybe the Fuel Injection has finally begun to be a problem!
Another day goes by and Jim had always wanted to change the muffler's as they were sounding "crappy" but still had exhaust exiting.  Down to the muffler shop and installation of a couple muffler's.  Prior to paying, Jim got into the car to see what the muffler's sounded like and the car instantly started and roared to life with a totally different sound and feel.  After driving this car for 16 years and 40+K miles including driving from Chicago to LA on Rt. 66, etc. the engine sound was obviously different.  Could it be?  Exiting the muffler shop and a left turn onto a no-traffic light road parallel to the freeway, Jim punched it and Wow is the only word! This performance hadn't been felt since some time ago.
Yes, the muffler's solved all the problem's with temperature, idle, acceleration and overall performance.  BACK PRESSURE was the problem (similar to a plugged catalytic converter) on modern cars.  Who would have thought!  Oh Yes Chip, the FI still works!