Planes of Fame Tour
Chino, Calif.
Saturday, June 7, 2008
This SoCalSACC Tour was held on Saturday, June 7th.  The location is nearby Chino, Ca. at the site of the Chino Airport which has been in this location for many years.  Although this has been a rural area and heavy into the dairy cow business, "progress" is beginning to be seen with less and less dairy farms.  The Cal-Aero Planes of Fame Museum is a dedicated bunch of mostly volunteers who save, restore and perpetuate aviation history.
This SoCalSACC Tour was coordinated by Chapter Vice President Mike Gibbon's, who is no stranger to early-warbirds, and it was another smashing success.  15 C1's showed up for the event with some arriving earlier to dine at Flo's Restaurant located "on the flight-line" nearby the Planes of Fame Museum.  Flo's is very "original", large amount's of food, and a legend in the area.  Planes of Fame Museum is an active organization with many volunteers preserving the history of early flight through jet aircraft.  The displays are located in several hangers.  After arriving we were directed to park amongst the aircraft and featured to the visitors who were paying to enter the museum.  "I guess we're part of the aviation, being high-flying Corvette owners"!
This is a First-Class Museum with a First-Class Presentation.  SoCalSACC coordinator Mike Gibbon's (who actually crewed a Mitchell B-25) is to be commended for his work.
Our 15 C1's were lined up in front of the "bone-yard" full of aircraft awaiting restoration.
Standing in front a P-38 fighter aircraft, Bruce Fuhrman (SoCalSACC Chapter President) left talks to the Chapter Vice President and Tour coordinator, Mike Gibbons.
Undoubtedly a favorite of most individuals with any interest in WWII aircraft is this fine example of a P-51 fighter aircraft.
Later in the day the above two fighters joined a Navy Bearcat for a sky-flying show over the museum.  It was very spectacular to have them buzz the field so closely.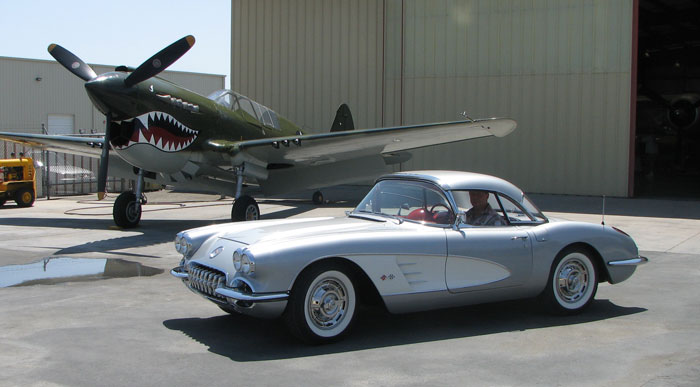 SoCalSACC Chapter member Randy Solle, #94, poses his recently completed 1960 Corvette in front of a P-40 Warhawk featuring the Shark Teeth paint scheme used with the Flying Tigers in WWII.
SoCalSACC Chapter member Neil Fraser, #36C, stands beside an AT-6 trainer aircraft sitting on the fligh-line.
SoCalSACC member Tony Siragusa, #124, is attending his first Chapter event and makes a pose in front of the P-40.
Since o
ur tour date was the first Saturday in June and being the first Saturday, the museum had a presentation about a specific facet of aviation history.  Grumman Iron Works was the presentation and the featured aircraft was the Grumman Avenger (TBM-3), which was sitting next to the guest participants.  Featured speakers spoke about Grumman history, the manufactured aircraft and other guests were pilots who flew this aircraft in "The Big One", WWII.  After the presentation we had a walking tour of all the hangers and display aircraft.