Fall 2005 Tech Session #1
Spring 2005
---
The So. Cal. Chapter began their existence with a General Membership Meeting at the Odyssey Restaurant and our first Tech Session hosted by member Chip Werstein at his home.  Chip has coordinated these Tech Sessions for two years and the popularity of these events is apparent as the number of the Chapter membership keeps increasing.  Four topics are usually covered by various member volunteers.


Chip's home was the site for our first Tech Session.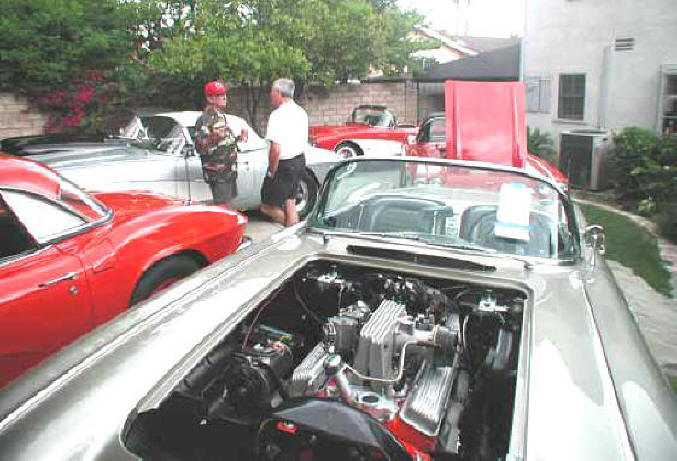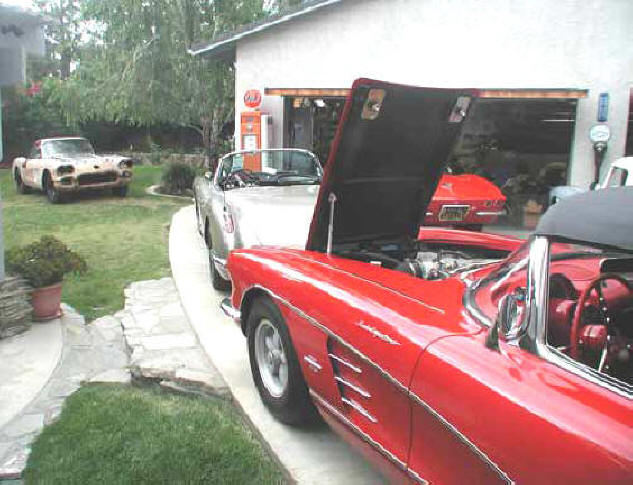 The above view's are of Chip's driveway.  Off to the left is a '60 race car "in progress".
Using a skeleton of a C1 door and a orderly layout of door hardware, Mike pointed out the many problems in door restoration. Installation sequences of hardware, repairing door panel mounting holes in the door, several "gotches" during the sequence, window mechanism restoration, etc. Mike covered many areas of door repair and other areas were questioned by members of the audience. Those in the audience also had alternative fixes which proved successful for their past.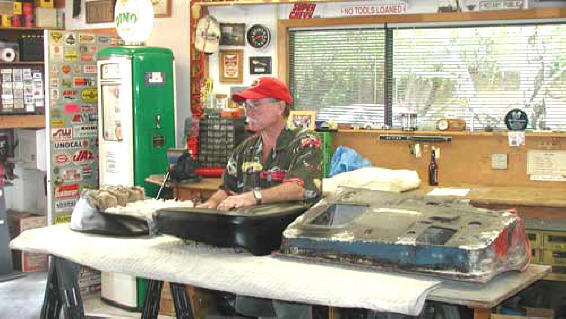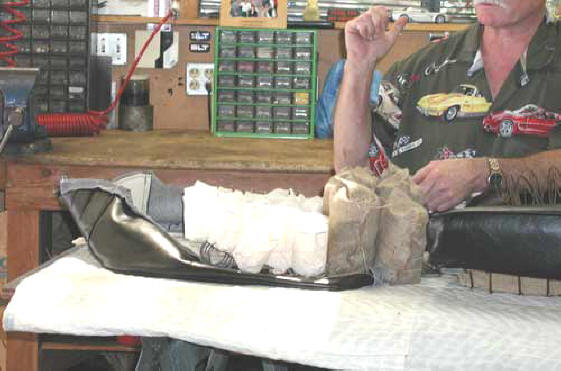 John has come to the table with many years of experience in upholstery, and specifically for Corvettes.  John explained the necessary "building" that must occur for a C1 seat cushion to "sit well".  He indicated the many shortcuts taken by upholsters and demonstrated to all present, the proper way a seat should feel when one is seated in the car.  Chip also chimed in exclaiming how two of his C1's sitting in the driveway differed and how one of the seats properly done by John was much more comfortable.  John did report that Al Knoch supplied probably the best upholster kits to date, along with the caveat, "even Al's is not always correct"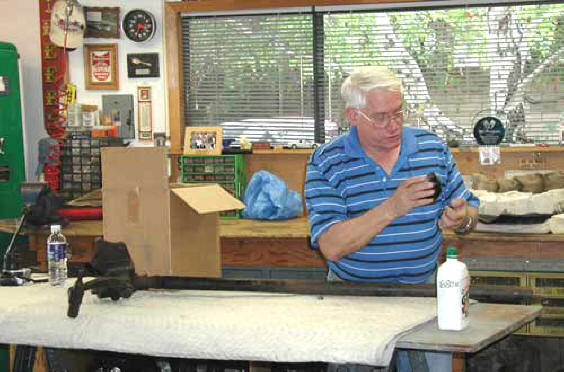 Larry loves C1's and SACC.  Once Larry has a forum he is full of information.  Larry's first challenge to the audience was, "Who's C1 steering box leaks?".  The affirmation was almost unaminous!  Larry pointed out that he located a thicker gear oil that has minimized this problem considerably, and, he brought all attendee's a quart to take home.  This gear oil was 680# but would flow so you could fill your steering box. Next Larry solved a problem on the signal "cup" moving on the steering column.  He developed a shim and indicated the method to tighten this problem up.  He also discussed the "common" problem with the self-canceling feature on the signals and how most will not self-cancel without a little help.  The effect of not self-cancelling causes a dysfunctional brake light on a specific side of the car.  It was pointed out, by someone in the audience, that they had obtained a repro and it performed worse than the original until they used the springs from the original (which probably  had a different tension) and the self canceling problem was cured.  Larry's final discussion was on restoring parking lights and curing the common cause of inoperative original parking lights.  All subjects proved very popular.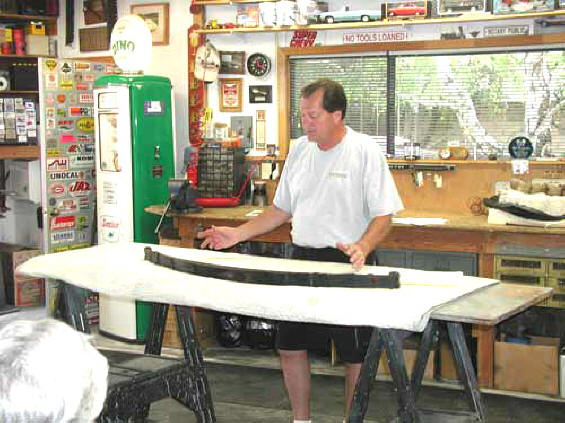 Does your solid axle corvette have the correct rear springs?  Original standard springs are quite unique being made up of four different length grooved leaves which are separated by wax impregnated fiber board liners with metal tipped ends.  Each spring assembly includes a center bolt and three stainless steel strap clamps.
56-57 rear spring assemblies are part # 3711550 (I believe 53-55 are the same) and 58-62 are part # 3751438. There appears to be no difference between the parts and in fact, a 1964 Chevrolet parts book indicates #3751438 for all 53-62 standard applications.
The bottom (short) leaf contains the part # as well as a Julian date code. Examples:        45 E 7 — "45" equals the 45th day of the year; "E" equals Eaton Spring Mfg Co. and "7" equals 1957, for a date of February 14, 1957.  345 E O – "345" equals the 345th day of the year 1960 or December 10, 1960.  I have seen examples where the E was not the center digit, as in 175 2 E, which is the 175th day of 1962.  Sometimes both springs on a given car will have the same date and other times they can differ.  The date code typically precedes the build date of the car by approximately 60 days.
After 40+ years of service, these springs tend to wear and sag.  Liner and bushing kits for springs are available from reproduction sources and can be rebuilt by reputable spring shops.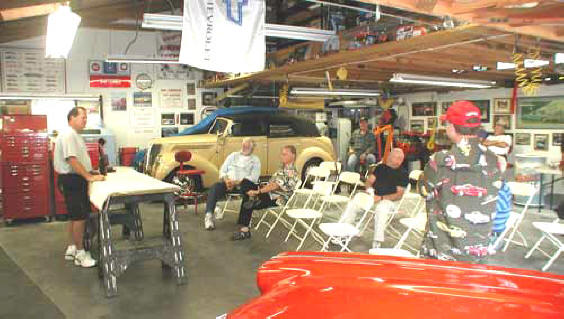 The scene inside Chip's garage just prior to this first Tech Session.  Attendance at this session was approximately 12 members.
---
Southern California Solid Axle Corvette Club